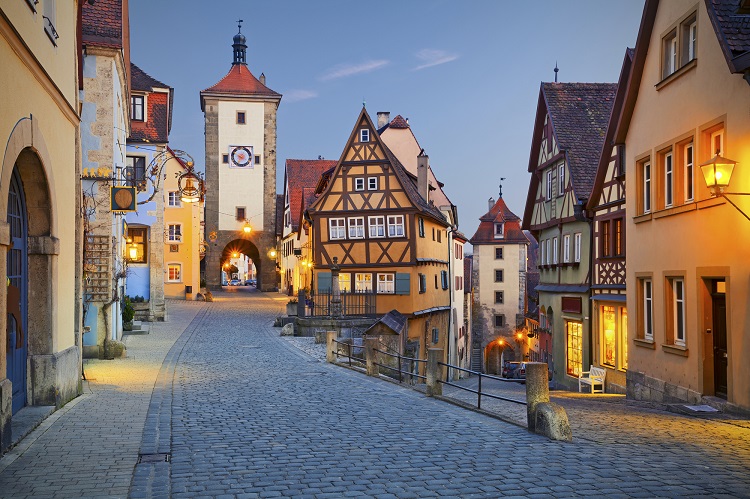 Find the best Historical places to visit in Germany
From medieval city centers to Fairytale Castles - Germany's history of over a millenium is as rich as it is diversified. Out of the many historical sights in Germany, we have picked the ones you simply cannot miss.
The 19th century lifework of King Ludwig II of Bavaria in Southern Germany has been the archetype for Disney's Castle of Sleeping Beauty, has starred in "Chitty Chitty Bang Bang" and still draws milions of tourists into its romantic charm.
The Castle near Stuttgart, ancestral seat of the Hohenzollern Family, is a prime example of the 19th Century Gothic Revival. Come and see for yourself, how people back then imagined the ideal medieval castle to look like.
The Sanssouci Palace, also called the "Prussian Versailles" in Potsdam near Berlin is a must for tourists. The pleasure palace of Frederick the Great from the 18th century with its magnificent gardens is a myth waiting for you to explore it.
The small town of Bacharach is located in the Unesco World Heritage Upper Middle Rhine Valley. With Stahleck Castle and numerous old half-timbered houses, Bacharach is an exceptional testimony to regional architecture dating back to the 12th century. The sheer number of historic buildings makes this place seem almost out of time. All this is embedded in a dreamlike landscape between vineyards and the Rhine, which invites you to explore the region.
This castle, also known as the royal villa, is built in the neo-Roccoco style and served as a retreat for its builder, the Bavarian King Ludwig II. The interiors are designed with ornate wall paintings and richly decorated interiors. The park surrounding the castle invites visitors to take a stroll and is home to smaller buildings and sights. In addition to the daily guided tours, it is also possible to book themed special tours that provide extraordinary insights into the life of the Bavarian fairytale king.
The New Herrenchiemsee Palace is located on the largest island of the same name on Lake Chiemsee. The entire complex is modelled on Versailles, which is why it is also called the Bavarian Versailles. King Ludwig II of Bavaria had this castle built, but it was only completed after his death. Today, parts of it are home to the King Ludwig II Museum, where the important stages of his life can be seen.
Rothenburg ob der Tauber is as much a town as it is concentrated history. The old town is still largely of medieval origin, newer buildings fit very well into the overall picture. The historic city fortifications can be walked through and there are numerous other historic buildings to discover. In addition, Rothenburg ob der Tauber has several museums, some of which have a medieval connection, making it the perfect place for your very own history lesson.