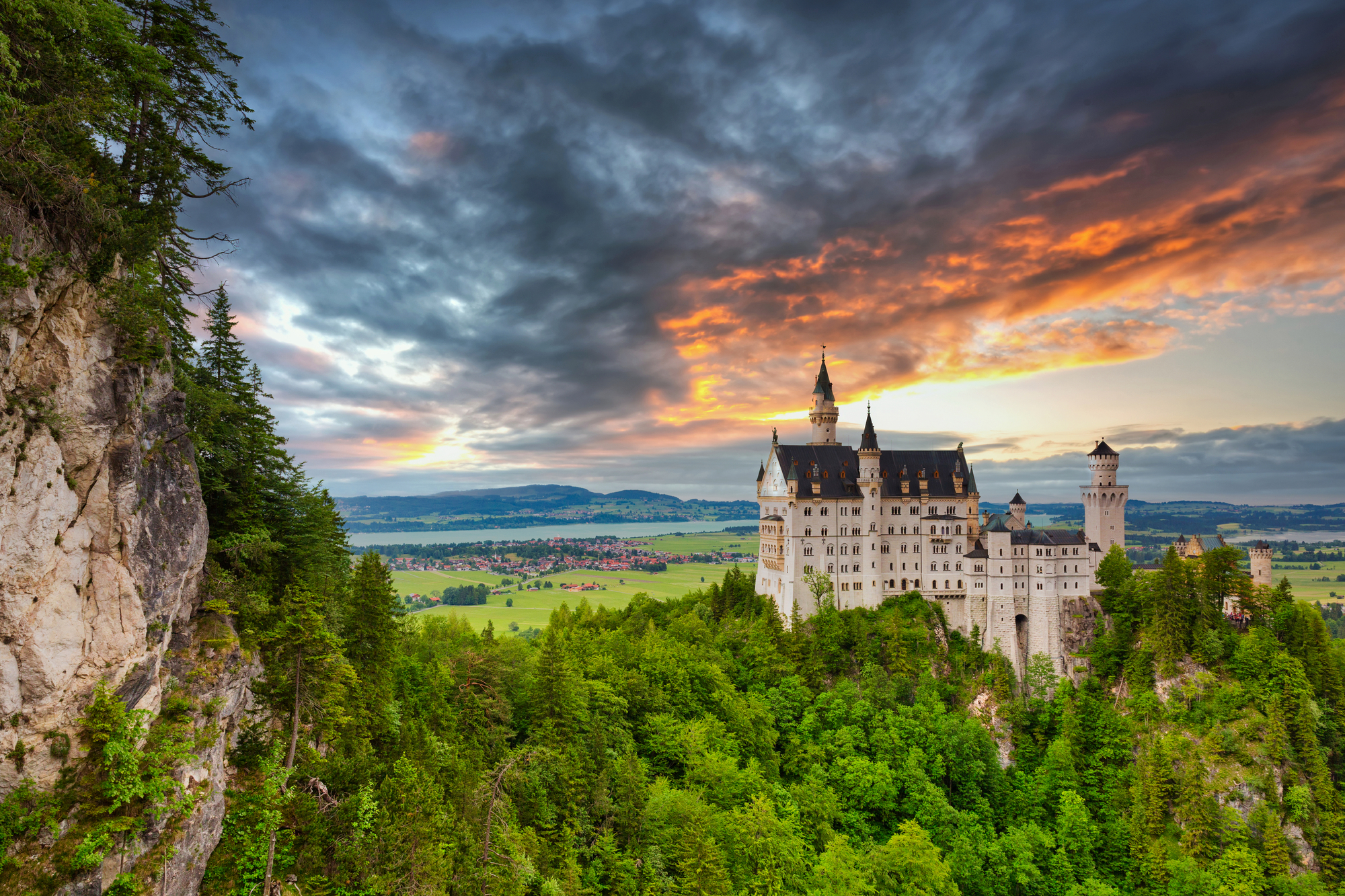 Neuschwanstein Castle in Bavaria, Germany, was built in the 19th century by King Ludwig II of Bavaria, also known as Mad King Ludwig. Constructed primarily to be an artist's retreat, the castle was only in use for two years before it was abandoned due to King Ludwig's early death in 1886. Today, Neuschwanstein Castle is one of Germany's most visited castles and is listed as one of the UNESCO World Heritage Sites.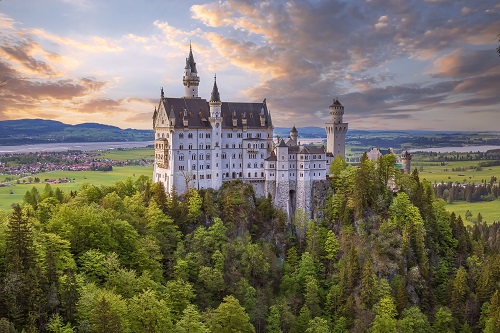 The history of Neuschwanstein Castle
Neuschwanstein Castle, also known as the fairy-tale castle, is one of Germany's most famous and recognizable landmarks—and it's no wonder why! This gorgeous fairytale castle located in Bavaria was built by King Ludwig II of Bavaria, who ruled from 1864 to 1886. Let's take a look at this amazing castle that many people know only from Disney World films!
Neuschwanstein Castle, which translates to New Swanstone Castle, was the last of three castles built by Ludwig II of Bavaria. It sits on top of Hohenschwangau Mountain, near the village of Hohenschwangau, about an hour's drive from Munich, Germany. Ludwig had just turned 18 when construction began in 1869, but he didn't live to see it completed—he died under mysterious circumstances at age 40. It took 17 years to build the castle, and it was finished in 1886. It inspired the famous Sleeping Beauty Castle from Disney's Sleeping Beauty film.
What Makes It So Special?
When Ludwig II became king of Bavaria in 1864, he was already in love with his kingdom and its natural beauty. But when he visited France, he fell in love with fairy-tale castles. So much so that when he returned to Bavaria, Ludwig decided to build his own castle. He hired an architect named Eduard Riedel to design it. However, the king insisted on detailed planning and had every design submitted for his approval. His influence on the designs extended so far that the palace can be considered primarily his own creation rather than that of the architects involved.
Ludwig II commissioned the palace as a retreat and as an homage to Richard Wagner. Ludwig paid for the palace out of his personal fortune and extensive borrowing, not with Bavarian public funds. The palace was a personal refuge for the reclusive king. But the Bavarian government  opened it to paying visitors immediately after his death in 1886. More than 1.3 million people have visited Neuschwanstein Castle since then.
What to do and see at Neuschwanstein
Ludwig II of Bavaria's love for fairy tales inspired him to build castles that look like castles from story books. For him, the castle was as a retreat where he could escape from his duties. Located in southeastern Germany near Füssen, it's no wonder some German speakers call it the most beautiful palace in Europe. Many films featured the castle, because it looks like something straight out of a fantasy novel. If Harry Potter was real, he would definitely want to visit.
Today, each year more than 1 million people come to take a tour of the palace and marvel at its interiors. There are nearly 200 official tours taking place daily. Visitors are welcome to enter Neuschwanstein's ornate rooms – just not during special occasions like Oktoberfest or other events.
But perhaps there is some truth to rumors that Ludwig's death wasn't an accident after all… Could anyone really live up to such opulence? You'll have to decide for yourself as you wander through lavish rooms, decorated with exquisite paintings and crystal chandeliers. And just wait until you see Ludwig's gorgeous bedroom and private chapel!
Despite being unfinished, visitors flock here every year from all over to catch sight of Ludwig's dream castle. As amazing as its stunning architecture is, there are even better views from above thanks to popular tours that take guests up to see these rooms from an entirely different perspective. Before joining an English speaking tour, it might be a good idea to brush up on some German.
Parts of King Ludwig's collection still reside at Neuschwanstein Palace today. Including many musical instruments used by Richard Wagner, some furniture designed by Eduard Riedel and paintings from artists such as Carl Spitzweg and Gustav Klimt. Ludwig himself influenced these artists.
Interesting facts
Architect Eduard Riedel designed the current building structure and construction took more than seventeen years from 1869-1886. In fact, Ludwig didn't get around to see his his extravagant new home finished before he died unexpectedly in 1886 at age 40.
Not only does Neuschwanstein castle look like a dream, but it was in fact a dream that inspired it. King Ludwig II (often known as Mad King Ludwig) had an obsession with Richard Wagner's operas. So he constructed his fantasy-like palace based on themes from Wagner's operas. Although some of these fairy tale elements have been toned down since Ludwig died before completion of his grandiose project, Neuschwanstein still feels very fairytale-esque.
You can climb up to Ludwig's personal room via a small staircase that leads up into his bedroom.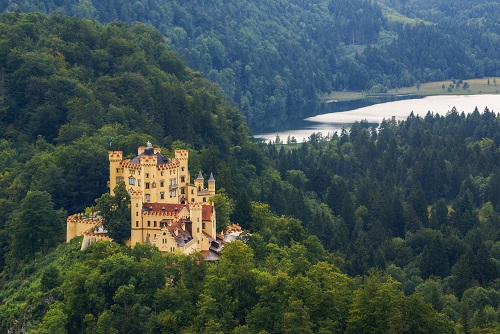 While in Munich, be sure to also make your way to Hohenschwangau Castle, which is Neuschwanstein's smaller sister castle just next door, before heading up to see Neuschwanstein. While visiting both castles, you will notice that Ludwig II grew up at Hohenschwangau and modeled Neuschwanstein after his family home. So walking through both places really gives you a sense of how much he missed his youth and what his life was like growing up in this region.
Plan your visit to Neuschwanstein
Neuschwanstein is built at nearly 1,000 feet above sea level in southern Germany's Alps. It is also located only 25 miles southeast of Munich, one of Europe's most popular tourist destinations. From Füssen, visitors can catch a bus to Neuschwanstein's lower entrance. Guided tours are also available via bus, but it's best to reserve them in advance as they do sell out.
The castle is open year-round except on December 24 and 25, December 31 and January 1. As well as during bad weather conditions that may cause icy roads to block buses from reaching Neuschwanstein for tours.
When planning your trip to Neuschwanstein, it's best to make reservations ahead of time. Tours take place at certain times throughout each day. There is usually a three-hour window in which you can enter. This means that if you arrive after your reservation window has passed or plan on leaving before your scheduled tour time, you will not be able to see the castle. On peak summer days, tickets sell out early so advance reservations are always recommended.
On a side note: You may not take photos inside Neuschwanstein. This helps preserve what visitors can experience first-hand; it also helps reduce crowding within an already popular attraction.
Pin for later: