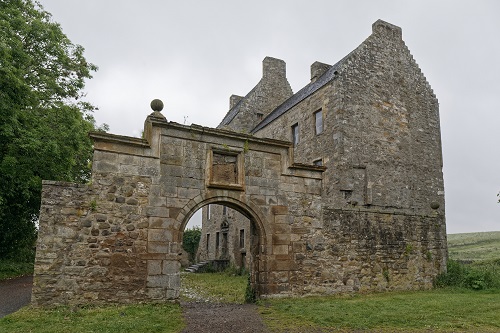 Counting the days until the next "Outlander" season and suffering from a severe case of "Droughtlander"? Or celebrating the return of travel opportunities by planning your next trip to historic Scotland? Why not combine both by retracing the steps of Jamie and Claire in everyone's favourite Scottish time travelling series! Here you find 7 Outlander filming locations you can visit:
This 14th century castle looks familiar, doesn't it? Even if you've never visited Scotland, that's hardly surprising. Because this castle has been seen on television more than once.
In the popular television series Outlander, this castle takes the role of the McKenzies' clan seat, Castle Leoch. If you have also seen Game of Thrones, it may rightly remind you of Winterfell. In Monty Python and the Holy Grail, different parts of the castle can even be seen as different locations.
In reality, Robert Stuart I, Duke of Scotland had the castle built on the remains of a previous castle. It was his royal palace until his death. Although the building plans were probably never completed, the castle bears witness to the ideas of a royal court from this period. Later it served as a hunting lodge for the Scottish monarchs, and at times as a prison or garrison.
Doune Castle as an almost completely preserved medieval castle and with its central location in Scotland aroused the interest of historians as well as tourists. Accordingly, there are various guided tours that take you to Doune Castle and other interesting places. So Doune Castle is one of the easiest Outlander filming locations to find. Try it out!
Midhope Castle belongs on every Outlander fan's bucket list, because you know it as Lallybroch or Broch Tuarach, Jamies home, at least for a while. This enchanting place is unfortunately nowhere near as well preserved as it appears in the series.
The wonderful building is now in ruins and its interior cannot be entered for safety reasons. However, the interiors were never filmed for Outlander. As, unlike other Outlander filming locations, Midhope Castle is on private property, you will have to take an official tour. The organisers have obtained the appropriate permits and will also advise you of local hazards. Check your camera batteries or charge your phone, you don't want to miss the chance to take these photos!
As this is not a usual tourist attraction, you will largely escape the normal holiday hustle and bustle here. This means you can take in the scenery at your leisure. Take the moment and remember some of the most beautiful scenes from Outlander. Welcome home Outlander fan!
Large parts of the beautiful village of Falkland were painstakingly restored in the 19th century and it has been preserved and maintained since the 1970s as one of Scotland's first Conversion Areas. Since then, it has become a medieval-looking gem with the Falkland Palace as its jewel.
It is hardly surprising, then, that it is also a suitable location for one or two film projects. In Outlander, this little town takes the place of 1940's Inverness. That means you can explore many Outlander filming locations here. Wander through the alleys, between 300-year-old houses and find Mrs. Baird's Guesthouses!
Falkland Palace, a former hunting lodge of the Stuart family, is also the place where James V of Scotland died. Although it was not a permanent home of the Scottish royals, this palace, including the gardens and the oldest surviving tennis court in Britain, is also an ideal destination for history buffs. And yes, Mary Queen of Scots played tennis here in men's trousers!
Clearly, Falkland is not just an Outlander film location you can visit, but also one that has plenty to offer from a historical perspective.
The small dreamy village of Culross seems rather inconspicuous from a tourist point of view. In fact, it is a quiet place to enjoy, with no shortage of things to see. As an Outlander fan, you can find the Outlander filming locations for Claire's herb garden in Castle Leoch here, and you also have the chance to explore Cranesmuir.
If you're in Culross anyway, the history buff in you probably won't want to miss Culross Palace. Then there's the equally beautiful and impressive Culross Abbey. Enjoy your tour of this historic site to the full and take the time to look around thoroughly. This is what many villages might have looked like hundreds of years ago.
Beautiful vantage points complete the picture and provide another backdrop for your best souvenir photos. The lush greenery of the gardens, as well as the fresh sea air, also refreshes body and mind, providing a wonderful balance to the beautiful but often crowded Edinburgh or a tiring flight.
You will probably associate Linlithgow Palace with the Wentworth Prison in Outlander. In fact, the prison scenes were filmed here, but Linlithgow Palace seems far less grim in the real world. Considering that it was one of the favourite residences of Scottish kings, who often had their children educated here, the role of the palace in Outlander seems rather strange. Today's ruins, however, are well worth the short drive from Edinburgh.
Built in the 15th century, it is the oldest surviving residence of the Scottish monarchs. Four massive wings around an inner courtyard await you. Explore the place where Mary Stuart was born. Learn about the ghosts that haunt the ancient walls. And if you want the full monty, check out the annual jousting festival on the grounds! A beautiful landscape, which gave both the place and the palace their names, is a bonus on top.
As you can see, neither Outlander fans nor history buffs can ignore Linlithgow Palace. So don't forget this side trip if you're planning a trip to Scotland.
This massive residential building dates back to the 17th century and the current Earl of Hopetoun still lives in the south wing. You can visit large parts of the building. They offer friends of art, architecture and history a whole range of special features.
From wonderful ceiling paintings and porticoes to the valuable historical furnishings of the individual rooms, there is much to discover here. Once in the Red Drawing Room, you will find yourself in the home of the Duke of Sandringham from the first season of Outlander. In the outdoor areas of the building, on the other hand, you will find Outlander filming locations for Parisian street scenes.
The grounds belonging to the house are not only extensive and beautiful, but also contain some extras that are particularly worth seeing. As well as great views over the idyllic grounds, there are the ruins of Abercorn Castle, which was taken and destroyed by James II in 1455. Are you ready for a walk?
As you can see, there are many good reasons to visit Hopetoun House, so put it on your bucket list if you're ever planning a trip to Edinburgh.
Blackness Castle, or "The Ship That Never Sailed", will be recognised by Outlander enthusiasts as Fort William. It was built in the mid-15th century and significantly strengthened again in the 16th century. As one of the most defensible castles in Scotland, it was often besieged but rarely taken. Even in the hopeless war against England, the castle always stood its ground.
Explore a ruined castle that remained unconquered for around two hundred years. Put yourself in the shoes of the soldiers who served here in different centuries. Find out who finally conquered Blackness Castle and when and what it was used for before it became a tourist attraction. Also enjoy the breathtaking views of the sea and the surrounding countryside.
As the place is very popular, you should book your ticket well in advance. But it's worth it, because you get a great mix of Outlander filming locations to visit and history at the same time.